1. Grohmann Professional Sharpening Services
Grohmann Knives brand half-price sharpening! Grohmann offers professional sharpening, reconditioning and repair services, Grohmann brand are done half-price, other brands sharpened at regular price. We offer one hour sharpening Mon-Fri 9-3 pm (except during lunch) or drop-off and other day pickup if you prefer. Please call ahead to make sure a sharpener is on staff that day if making a special trip to see us.

You can also mail in your items for sharpening-
Mailing Address: P.O. Box 40, 116 Water St, Pictou, Nova Scotia, Canada B0K 1H0
Include what work you wish to have done and your return mailing address/phone number/email address. We accept Visa, MC, paypal and international money order for immediate shipment upon payment. Personal cheques, allow 4 weeks to clear before we can ship out.
If mailing from outside of Canada be sure your package is labelled correctly as a " Return to manufacturer and Free Domicile" is clearly marked or checked off. Any parcels that arrive at the border with charges owing on it, improperly filled out customs forms, taxes, etc will not be forwarded to us, they will be refused/returned to you.
All brand knives are usually accommodated for sharpening, Grohmann Knives are sharpened at half price starting at $5 . Email or call for a quote, include item details such as length, model number and work to be done.
You can trust us with your serrated edges! Some places will grind off the teeth when sharpened. Grohmann sharpens each tooth by hand to maintain your serrations.
Found an old Grohmann while out hunting or left your knife outside all winter? We've heard it all and it's not a problem! Grohmann offers reconditioning services that start at $20 for polishing and sharpening and most knives can be brought back to good condition. Dog chew the handle off your hunting knife? We can repair or replace most handles with the same material, or chose something different. Email or call for a quote today.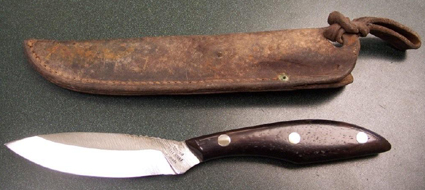 Here is a knife that was brought in for complete reconditioning that was lost outdoors for approx 45 years. Of course it all depends on the damage the knife is in. The pitting was not too deep and the handle was still in good condition so the outcome was very good.
2. How To Sharpen your Grohmann Knives at Home
For those who prefer to do their own sharpening, suggested sharpening tips are below. A copy of the sharpening instructions is on your Grohmann Professional Sharpening Tips on the back of your Lifetime Limited Warranty sheet with each first quality knife.
Our knives have a high carbon content, so are not difficult to resharpen. You can use a purchased sharpening system (ie. Lansky etc) most work well with a 20-30 degree angle on both sides of the blade (other than serrated blades, all of our knives are sharpened on both sides equally). We do not recommend most electric sharpeners on the backs of can openers etc as they tend to grind off more steel than is necessary. Some 'built in' sharpeners that come inside kitchen knife blocks also tend to actually dull up the steel after they wear down.
The following are some quick tips we suggest.
Straight edge blade - Using a Combination Stone
Use a high grade combination stone and a low flashpoint petroleum product (e.g.. varsol) to keep the stone clean and lubricated. Many oils on the market, even though they claim to be thin, still tend to clog the pores, making it a shiny, unusable surface over time. If you use something like varsol, you can use your stone until it completely wears down. Always sharpen in a well ventilated area and be sure to clean your knife afterwards to remove all lubricant and shavings.
Hold the blade on a 20-30 degree angle from the stone on the medium grit side first. Starting where the blade meets the handle, using a medium pressure, draw the entire length of the blade across the stone as if taking a thin slice off the stone. Alternate sides evenly until sharp.
Then repeat 3-5 strokes on each side on the fine grit side of the stone to remove any burr.
~~~~~~~~~~~~~~~
Straight edge -Using a Sharpening Steel or Stick
Sharpening steels or ceramic sticks are ideal for touch-ups just before use. They are not recommended for a very dull/thick blade, use the combination stone instead. When touching up on a sharpening steel or ceramic stick, lay the blade flat against the steel, then while keeping the edge against it, lean the top of the blade out approx 20-30 degree angle from the steel. Starting at the base of the blade (closest to the handle), draw the blade down along the edge right to the tip. Since Grohmann straight edge knives have the same bevel on both sides of the blade (makes the knife great for both left or right handed use) repeat this on the other side of the steel as well. Continue drawing the knife down on both sides equally until sharp.
~~~~~~~~~~~~~~~
Serrated Edges - with Ceramic Stick or Steel
Serrated edges require each tooth to be hand filed with a ceramic stick or appropriate steel that fits the diameter of the tooth. Avoid using a tapered stick unless you stay in one area of the stick, or it will change & warp the shape of the tooth. Each tooth must be repeatedly filed until sharp. Then the stick can be rubbed back and forth along the edge on the opposite flat side to take off any nicks or burrs.
If getting your serrated knives sharpened by someone other than Grohmann Knives, please ensure the person doing it will keep your serrations as they are. We hear of/see numerous badly damaged serrated knives that had the teeth warped, broken or ground right off. If someone does happen to take off your teeth or do a poor job of sharpening, you may return them here for a repair quote and have your teeth etc ground back on.